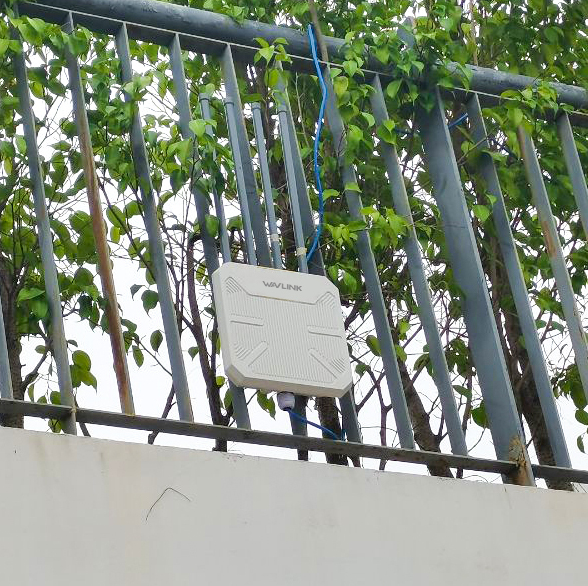 In modern society, the internet is essential for daily life and work. However, network construction in certain scenarios like farms, parks, construction sites, and mining locations can be challenging. Different plans and strategies are required based on different scenario requirements and special environmental conditions.
Farmers and garden administrators need a wide coverage, stable network connection for operation management and customer communication. Park users require a reliable network connection for efficient park management. Exclusive villa owners want high-speed, private, and secure network services. Network construction at construction sites and mining locations requires special consideration due to their unique environmental limitations and work characteristics.
To address these challenges, installing professional outdoor routers and WiFi equipment can provide broader network coverage and better signal transmission. Additionally, modular hardware and software systems should be selected based on different environmental conditions and user needs.
In terms of network construction, network security and data protection should also be considered. Proper encryption and identity verification measures can ensure the security of network connections and protect user information from being leaked. Moreover, backing up important data and timely restoring system functions should be carefully planned.
Overall, network construction requires planning and implementation based on specific environmental conditions and needs. By choosing suitable hardware and software systems and implementing appropriate network security and data protection measures, it is possible to achieve wider network coverage and better signal transmission, providing users with convenient and efficient network services.
To maintain network connectivity in outdoor environments, more and more people are purchasing outdoor routers. A good outdoor router should have features such as waterproofing, wind resistance, high-temperature resistance, and long-term stability.
Firstly, waterproofing is a basic requirement for outdoor routers. In harsh weather conditions such as rain or fog, without good waterproofing, the router is easy to be damaged and unable to function properly. Secondly, wind resistance is also an essential factor. If your router does not have wind resistance, it may collapse or move position when strong winds blow, which will negatively affect your network connection.
Moreover, high-temperature resistance is also worth considering. In high-temperature environments during summer, some common routers may overheat and become damaged. Therefore, choosing an outdoor router with high-temperature resistance performance is crucial.
Lastly, long-term stability is also an important criterion for measuring the value of outdoor routers. A good outdoor router should provide stable network connectivity in the long term to meet user needs.
Outdoor routers are essential for maintaining stable network connectivity in outdoor environments. If you are looking for an outdoor router that is waterproof, wind resistant, high-temperature resistant, and has long-term stability, choosing a high-quality product will provide you with excellent experience and reliable service.
WAVLINK is a company that provides networking devices and solutions, including routers, extenders, network cards, etc. In the field of outdoor routers, here are several models of WAVLINK:
1、WAVLINK AC1200 High Power Outdoor Weatherproof WiFi Range Extender (WN572HG3): This router is a dual-band outdoor WiFi signal booster that can cover an area of over 1000 square meters. It has high power output and antenna gain, enabling stable and long-distance wireless transmission in various harsh weather conditions.
2、WAVLINK AC1200 High Power Outdoor Wireless Access Point (WN572HE4D): This router is a dual-band outdoor WiFi access point that can support the 802.11ac standard and provide data transfer speeds of up to 1200Mbps. It features all-weather waterproof design and high power output, making it suitable for various outdoor applications.
3、WAVLINK AX1800 High Power Outdoor WiFi 6 Router (WL-WN573HX1): This router is a dual-band WiFi 6 outdoor router that can provide data transfer rates of up to 1800Mbps (1200Mbps in 5GHz bandwidth + 600Mbps in 2.4GHz bandwidth), and covers a wide range of network connection needs. It features a fiberglass antenna design with excellent wind resistance, waterproofing, and high-temperature resistance performance, making it suitable for various outdoor applications.
WAVLINK offers various models of outdoor routers, allowing you to choose the product that best suits your needs. These routers have outstanding performance and the ability to withstand harsh environments, meeting various network connection needs in outdoor scenarios.
In addition to WAVLINK, here are several other products worth considering:
1、TP-Link Omada EAP225-Outdoor: This router is specifically designed as a gateway for outdoor environments. With all-weather waterproof, wind-resistant, and high-temperature resistant design, it also supports PoE power supply and Cloud Centralized Management, meeting different network needs in various scenarios.

2、Ubiquiti Networks NanoStation AC: This router is a high-performance outdoor wireless device that provides excellent network connection speed and signal coverage range. Its powerful antenna and adjustable polarization angle can ensure optimal signal transmission effect.

3、EnGenius ENH500v3: This router is a device with high power output and long-distance wireless transmission, suitable for various outdoor places. It has a unique directional antenna design that can help users achieve more stable network connections at longer distances.
4、NETGEAR R9000 Nighthawk X10: This router is a high-end home and industrial-grade router that provides excellent WiFi speed and unmatched features. The router supports MU-MIMO and Quad Stream technology, as well as Wave 2 WiFi, which can simultaneously process data traffic from multiple devices, providing more efficient network connections.