Basic information
Default IP : 192.168.10.1
Default password : admin
Login : http//wifi.wavlink.com
Mesh SSID : WAVLINK-Mesh_XXX
Touchlink SSID : WAVLINK-Touch
Steps
Select one of the mesh devices as your router ,connect its Internet LAN/Backhaul to the modem then plug it into a power outlet.
Click the network icon on the right bottom of your desktop, search SSID "WAVLINK-Mesh_XXX",and connect it.
Open web browser and type "192.186.10.1" or "http//wifi.wavlink.com" in the browser address box and the login screen will appear.The default password is "admin" (use "address box" but not "search box").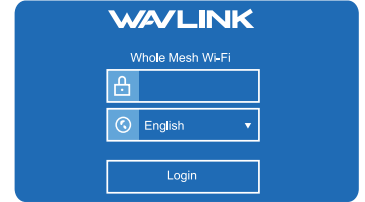 4.Select your Region and Timezone ,We strongly recommend that you set a new login password for your network security.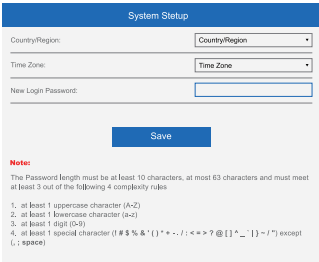 5.Proceed to "Wizard"sections and choose "Router"mode.
6.Select the WAN Type according to your network.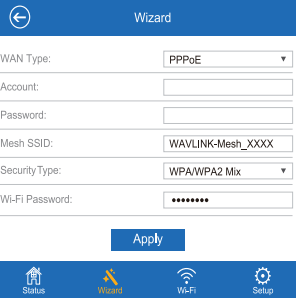 7.In Wizard section,you can change your mesh SSID or use the default one.As for Security Type,we usually suggest that choose the "WPA/WPA2 MIX".For network security , please create a Password according the rules.
8.Click on "Apply"and wait for the installation process to complete.
9.Now plug the other mesh devices in power outlets , they will act as mesh extenders automatically.
Firmware Upgrade
Firmware update is usually for optimizing the product to fit in special environments and applications. If your product works properly, it is not recommended to upgrade your product.
Before firmware update, you need to verify the correct version of firmware for your device. The mismatched firmware cannot be used and it might do harm to your device. If you are not sure about the version of your device and the right firmware, please turn to our after-sales team. Do not power off during the upgrade, otherwise it might be unable to use and need to be returned to the factory for repair.