How much time do you spend on the internet in daily life? It would be many more hours than you used to spend a decade ago. The reason is that everything has been shifted online. From education to exercise, from businesses to jobs, and medicine delivery to food delivery. Many changes have occurred in our lives since the last decade and this transition has only been made possible through wireless internet. Well, Wi-Fi 6 is the latest cutting-edge technology in this field. It is also known as 802.11ax.
The term Wi-Fi was coined by a non-profit alliance and it consists of different wireless networking protocols based on international standards proposed by IEEE 802.11. Wi-Fi 6 is an upgraded version of Wi-Fi 4 and Wi-Fi 5 with higher link rates. This allows faster connections and immaculate speed. Let's dig deeper into Wi-Fi 6:
Revolutionary Connections
Wi-Fi 5 offers only 3.5 Gbps whereas Wi-Fi 6 has a maximum throughput of 9.6Gbps. This means that despite being connected to multiple devices, Wi-Fi 6 offers speedy connections in real-time. It can transfer data at a higher speed as compared to Wi-Fi 5. Powerful processors have made Wi-Fi 6 an intelligent wireless system with more efficient data encoding systems. Moreover, Wi-Fi 6 handles heavy network traffic 75% more efficiently than Wi-Fi 5. It is best for fast downloading, game streaming, and multi-media tasking. Not only this but Wi-Fi 6 has diminished the difference and gap between wired and non-wired internet connectivity.
573HX1
: Best Wi-Fi 6 Access Point
With the power of Wi-Fi antennae that are equipped with strongly powered amplifiers, Wi-Fi 6 provides immense coverage in outdoor events. The range can be up to 300 meters on a 5 GHz band. Wi-Fi 6 is 30% faster than Wi-Fi 5 and has a better range while running on 5 GHz or even 2.4GHz band. The access point named 573HX1 is ideal for outdoor settings as it provides a speed of 1.8GHz.
You can choose to purchase the 573HX1 immediately on our WAVLINK self-built independent website, which eliminates platform advertising costs and allows you to get the most favorable price.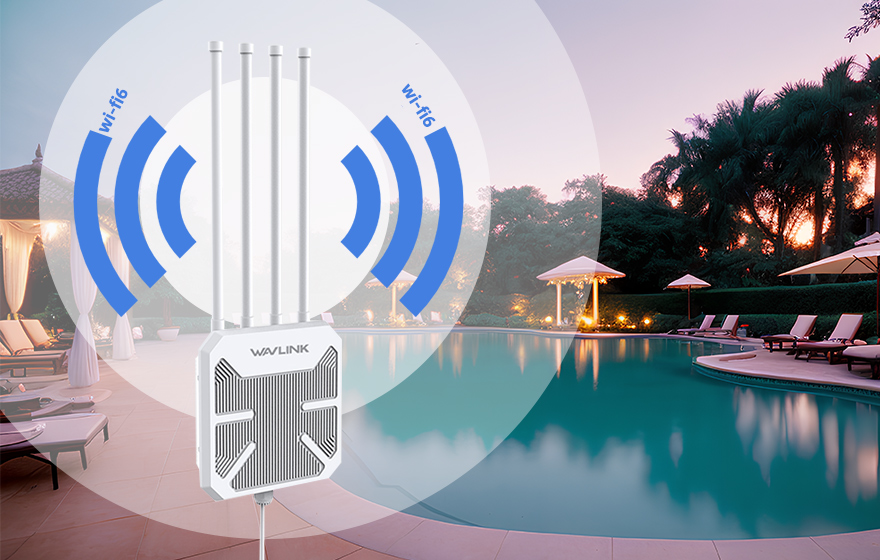 It has superior speed, more network efficiency, and coverage. It is equipped with modern mesh technology named WAVLINK MESHGO. It stays smooth due to the central cloud management system.
Faster Outdoor Connections
The main aim of Wi-Fi 6 is to increase the throughput rate in huge spaces like shopping malls, offices, and congested apartments. A technology used in cellphones, known as orthogonal frequency-division multiple access has been used in Wi-Fi 6 which makes it efficient and helps in avoiding the other connections in the surrounding. Usually, a LAN Wi-Fi extender or Wi-Fi antenna is used in such areas. Long-range Wi-Fi extender and mesh range extender is also used for internet connectivity.
Wi-Fi boosters and mesh extenders can only help to a limit. For higher connectivity speed and 5.0 GHz range, Wi-Fi 6 must be used to get Wi-Fi anywhere. You can buy the best Wi-Fi extenders for outdoors yet still get low speed if you don't opt for Wi-Fi 6. Having Wi-Fi 6 with the best Wi-Fi modem and long-range routers is the key to getting internet anywhere!
Distant Coverage
Wi-Fi 6 technology offers the need to eliminate long-range Wi-Fi antenna receivers by giving a coverage of 200 meters in 2.4GHz and 300 meters in 5GHz bands. It has features like airtime fairness, beam forming, and band steering.
Connectivity Options
The use of OFDMA has significantly improved its efficiency while being connected to multiple number of devices. It can provide dozens of connections in outdoor environments.
Integration into
WAVLINK APP
The platform of WAVLINK APP software-defined networking has integrated access points, routers, and switches being used for Wi-Fi 6 technology to provide a proficient centralized cloud management system that is free from any hassles. It has created an opportunity for scalable networks which can be controlled by a single interface. It is intelligently monitored on-premises and provides zero-touch provision.
With the use of mesh technology, WAVLINK APP has eliminated the need for extra wiring by extending Wi-Fi signals in farther areas where wiring wouldn't be possible. The intelligent system of self-organization keeps you online even if AP (access point) is disrupted.
Not only this, but it automatically switches clients to other access points when they move farther to give an experience of smooth connectivity with the best signals. It comes in a dust and weather-resistant enclosure perfect for outdoors. It can be mounted to a pole or wall to give you the best Wi-Fi signals wherever you want!
Here is an article that provides a detailed explanation of the Wi-Fi 6 technology, including many technical details.
Installation and Management
It has multiple options for easy installation. The AP supports 802.3at PoE+ and power supply from Passive PoE too. It can easily be powered through a switch or an adapter. It has a simple reset button and an ethernet port that supports both 802.3at PoE+ and Passive PoE.
All the configuration settings are instructed for free in the WAVLINK APP app. It also enables you to monitor the status of networks and manage customers easily on smartphones or tablets. The app comes in handy on Google Play and App Store.
Conclusion
To sum up, Wi-Fi 6 is an upgraded and faster version of Wi-Fi 5 with a higher speed and maximum coverage of 300 meters. It is the best for outdoor environments as it provides faster connectivity, numerous simultaneous connections, more coverage, and automatic switching between access points for a seamless internet experience.
It is easy to install and monitor. It is also easy to maintain as all management is done through cloud systems and the enclosure is weatherproof as well as dust resistant. Moreover, the app guides you well in installation and keeping track.
There is no need for Wi-Fi boosters or mesh extenders once you get the best wi-fi modem and equip it with the latest Wi-Fi 6. 573HX1 is the best access point for Wi-Fi 6.
So, if you want to have the best internet service outdoors or manage a smart home where smart appliances are installed, you must upgrade to Wi-Fi 6. The right choice awaits you for better speed and coverage. Get it now to make your life peaceful and get rid of internet slacking.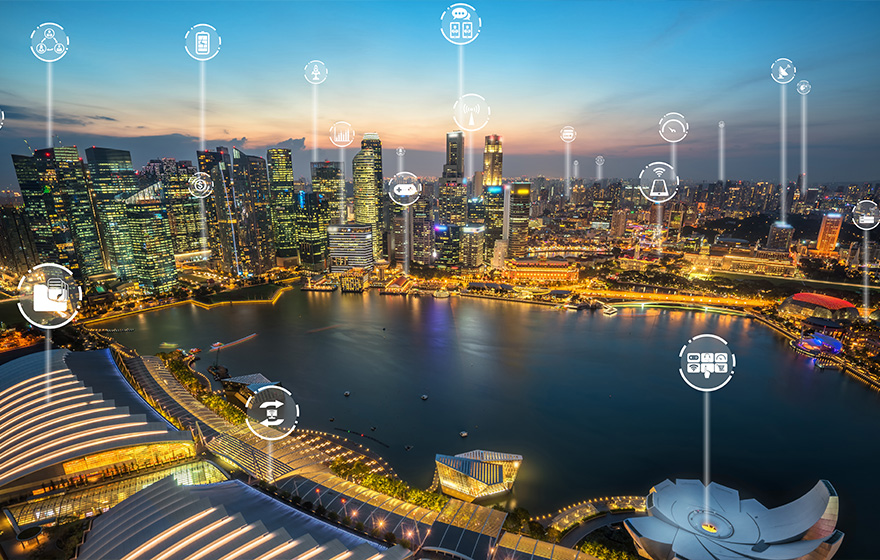 You may also be interested in knowing how much it would cost to build a WiFi environment. Here is another article that discusses various cost-effective WiFi coverage solutions and technical details.
Another networking approach that is widely accepted is using wireless bridging to achieve long-distance transmission of wireless networks. This method is commonly used in applications such as telecom relay networks and high-speed highway speed camera networks. Here is an article that explains how you can use a small-scale wireless bridging network to expand your network coverage area.