Occasionally you may not be able to access the router's web management page when entering http://192.168.10.1 or http://wavlogin.link . This failure can result in an error page or even no response at all, a blank screen. There are several reasons why this can happen, and this FAQ will help。
1. Make sure your client device is connected to your WAVLINK router via its Wi-Fi SSID or Ethernet cable.
Note: If wired: Connect your device to your WAVLINK router via Ethernet cable to one of the LAN port on the back of your WAVLINK router,
And Change you computer's IPV4 address to "Obtain an IP address and DNS address automatically"
2. Temporarily disable any popup blockers, firewalls, and AD blockers you use.
3. If you get an error message when attempting to access http://192.168.10.1 or http://wavlogin.link, visit the following link for instructions on how to clear your browser cache:
Google Chrome: https://support.google.com/accounts/answer/32050
Microsoft Edge: https://support.microsoft.com/en-us/help/10607/microsoft-edge-view-delete-browser-history
Apple Safari: https://support.apple.com/guide/safari/clear-your-browsing-history-sfri47acf5d6/mac
Mozilla Firefox: https://support.mozilla.org/en-US/kb/how-clear-firefox-cache
Internet Explorer: https://support.microsoft.com/en-us/help/17438/windows-internet-explorer-view-delete-browsing-history
Here's how to clear your browser's cached data.
Launch Google Chrome and hen hold down the key combination "Ctrl+Shift+Delete".
When the following dialog box appears, select Clear Cookies and Cached data.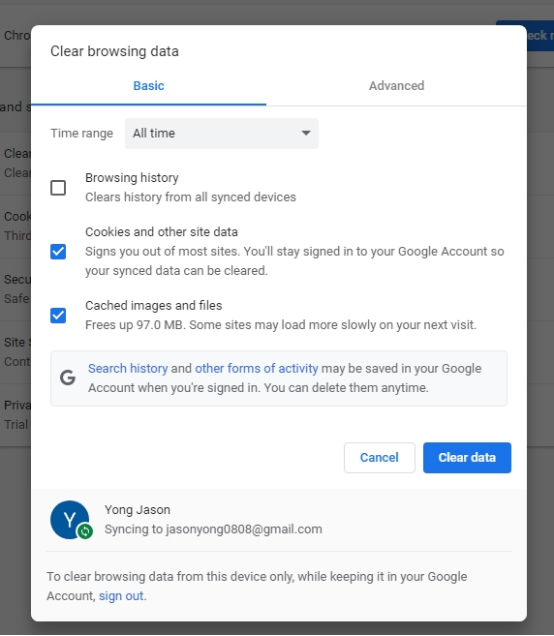 4. Using a different browser may also resolve your access errors. For example, if you normally use Google Chrome, try using Microsoft Edge or Mozilla Firefox to access the router login page.
5. Access via the WAVLINK router's Gateway IP address instead of http://wavlogin.link
Note: Maybe 192.168.10.1 is not your Router's gateway IP address, if this IP address does not work, then you need to use the specific IPV4 gateway address of your WAVLINK router to log in. Here the article in the link contains on how to check gateway IP address of your router .
https://www.howtogeek.com/233952/how-to-find-your-routers-ip-address-on-any-computer-smartphone-or-tablet/
https://www.WAVLINK.com/en_us/faq/details/how_to_check_ip_address.html
6. If none of the above steps resolve your router access issues, perform a factory reset of the router via press and hold the reset button for 8 seconds.
You can refer to the article on how to reset your WAVLINK
https://www.WAVLINK.com/en_us/faq/details/how_to_reset_WAVLINK_router.html