DisplayPort Alternate Mode allows the type-C port to transmit data/video over multiple display interfaces. Type-C ports capable of carrying DisplayPort signals are known as video transmission or DP Alt Mode.
However type-C is a versatile interface standard. Therefore, compatibility information is complicated. Some USB type-C systems support DP Alt Mode while others do not. Some can be powered and charged via USB PD, while others cannot.
WAVLINK MST docking stations/ adapters take advantage of most USB type-C features, including Displayport Alt mode and USB Power Delivery protocol. Please confirm whether the built-in type-C port of the host system supports Displayport alt mode before purchasing.
Note: WAVLINK type-C MST docking station does not work USB type-A computer without USB type-C port.

How to determine whether my computer is compatible with WAVLINK type-C MST dock or adapter?
Check the manual
Please locate to the correct manual for the exact model of your computer from the manufacturer's website. The instruction manual has a detailed introduction to the type-C port of the computer.
If the built-in type-C port supports video output feature, it will be clearly stated in the instruction manual, similar to "Support DisplayPort Over type-C", "Connect a display via type-C to DP/HDMI/VGA adapter", "Support DP 1.2 or DP1.4 over type-C" such information.
As shown in Figures 1 and 2 below: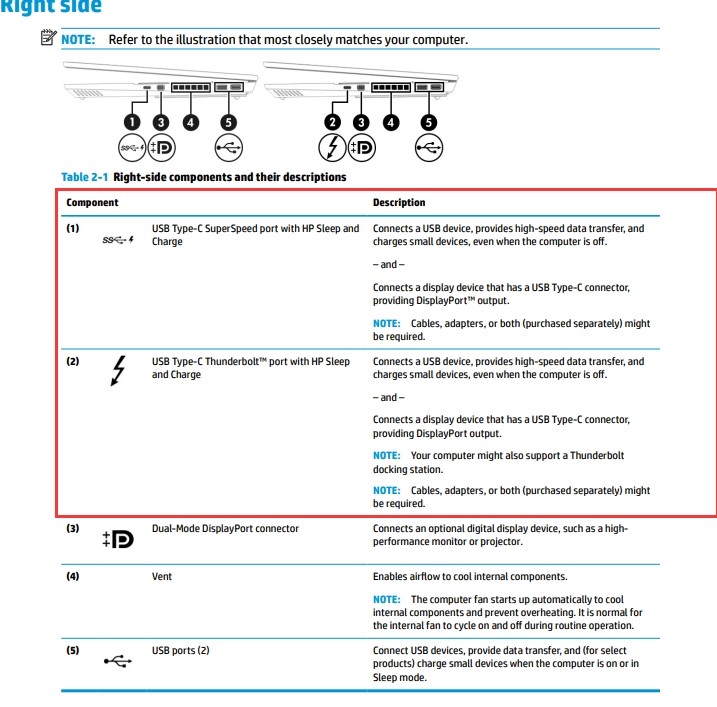 If the computer does not support video output (DP Alt Mode),it will only emphasize that the built-in type-C port only supports data transfer, without any description about the external display.
As shown in Figures 3 and 4 below :